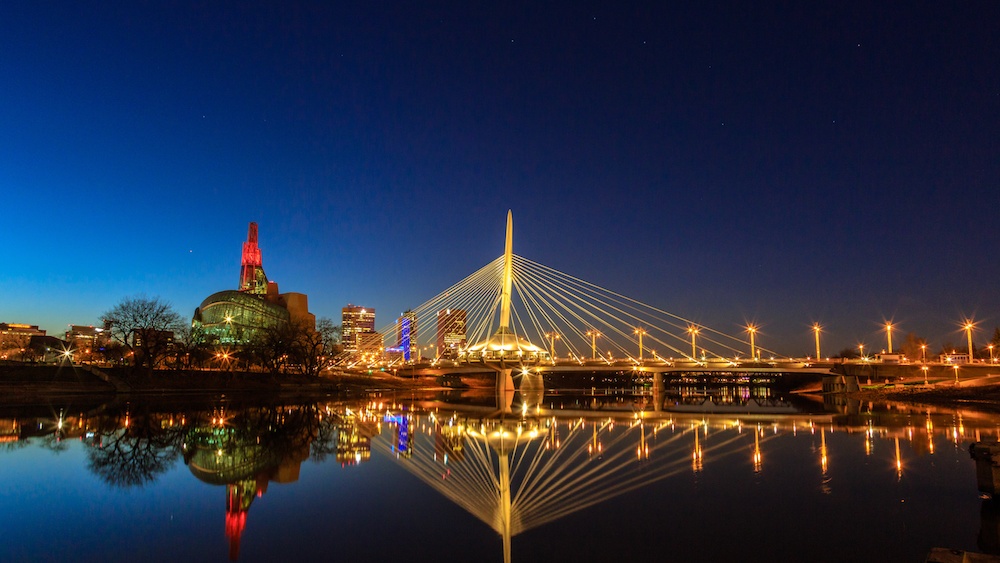 We're back again with another City Spotlight! In November, we're highlighting another great city where we have a Two Small Men office and where many of our team members live and work. This month our spotlight takes us to the capital of Manitoba. Keep reading to see what the people of Winnipeg love about living and working in the city.
Moving to Winnipeg? Unlike some of the larger cities in our province, you don't hear a lot about Manitoba's capital. But, that doesn't mean it isn't a great place to move. In fact, we think you'll be surprised by all the activities you'll have to do once you get settled in there.
All About Winnipeg
Like we said before, Winnipeg (located where the Red and Assiniboine Rivers meet) is the capital city of Manitoba. It's a fairly southern city, only a short 110km from the Canada-US border.
Because of it's location between the Eastern provinces and the Western ones Winnipeg has become known as the "Gateway to the West." This location, and title, means the city has one of Canada's most diversified economies.
At the 2016 census there were 705,244 people living in the city, making it Canada's 7th largest. Interestingly, Winnipeg represents more than 50% of the entire province's population which is the highest population concentration of all the provinces.
What's the History?
Winnipeg is named after the nearby Lake Winnipeg. The word itself comes from the Western Cree words for Muddy Water. It's well known that the region was a popular trading location for First Nations people, likely because of its proximity to the two major rivers.
Once Europeans arrived in the area, both the North West Company and the Hudson's Bay Company had forts in the area of the present-day city. Winnipeg really started to take off as a city after the arrival of the railway in 1881, which allowed it to become the "gateway" we mentioned before.
Things to Do in Winnipeg
Now that you know a little more about the city, if you're planning to move to Winnipeg, you're probably wondering what things there are to do. As a local Winnipeg moving company, we've learned a lot about what interesting things there are to do there. Here are some of our favourites:
Arts and Culture
Winnipeg has some very interesting cultural experiences. Firstly, the Canadian Museum for Human Rights - the first museum built with the purpose of illustrating the evolution, crisis, and the future of human rights around the world.
You might also be interested in checking out the Royal Winnipeg Ballet. Many notable dancers have trained and performed here, and the current company travels around the world performing, so being able to see them in the their hometown is a treat.
Fun Fact: The Royal Winnipeg Ballet is the first ballet to be given the royal title under Queen Elizabeth II.
There's always plenty to see and do at The Forks National Historic Site, which is one of the city's most visited attractions. You'll find museums, boutiques, a marketplace and more here.
Sports
Winnipeg has a couple of professional sports team to cheer on. There's the Blue Bombers football team and the Winnipeg Jets hockey team, who just returned to the city from Phoenix in 2011 after leaving in 1995. There are also a few University sports teams to root for, and lots of opportunity for you to partake in sporting activity of your own.
Just for Fun
The Assiniboine Park and Zoo is open year round, so if you're moving to Winnipeg this winter, that's something you can check out right away. Another winter activity is the Raw Almond pop-up restaurant located right on the frozen river in Jan-Feb every year.
Later in the year, there's also some great summer festivals in Winnipeg, including Manyfest on Broadway, which offers free admission. If you have young kids, they'll love visiting the Manitoba Children's Museum for fun, interesting, and educational activities.
Your Winnipeg Moving Company
As you might be able to tell, we love having one of our offices in Winnipeg, and we think our team members there would agree that it's a pretty nice place to move. If you're moving to Winnipeg, trust our experienced, local moving company to get you and your things there safely and efficiently. Get your free moving estimate today!